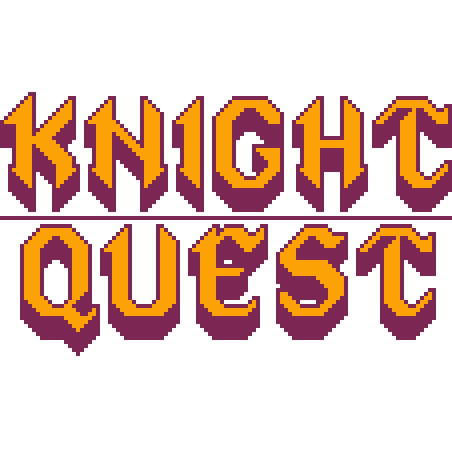 Knight Quest [Demo]
A downloadable game for Windows
---------------------------------------------------------------------
KNIGHT QUEST
Tred carefully Young Knight! For King Posh has stolen thine princess!
Leap! Fight! Dodge! In this miniature castle adventure!
---------------------------------------------------------------------
Embark on this short demonstration that is meant to be but a proof of concept. Strike down as many enemies as possible while platforming your way to the end. Open chests and stack up coins for victory.
Player feedback is much appreciated as we are eyeing this as a potential full fledged project for the future.
---------------------------------------------------------------------
HOW TO PLAY!
A - Move Right
D - Move Left
Space - Jump
Left Click - Attack
---------------------------------------------------------------------
FOLLOW US!
Twitter - @RoyalDenStudios
Download
Click download now to get access to the following files:
Knight Quest Demo.exe
6 MB
Comments
Log in with itch.io to leave a comment.
I have a list of games that I want to revisit and you happened to be first on my list. I still think this short playable demo is pretty cool and I'd like to have a play of a longer version.
I'm following you guys now so I can keep up to date with releases.
Still as good as ever.
Very nice! I like the combat. I'm looking forward to seeing where the rest of the game goes. The visuals are super-charming. I can't wait to see a greater diversity of enemy behaviors.
I would personally love to see a control option for the game to be played only with the keyboard and no mouse (including the ability to navigate menus without the mouse), but that's a personal preference.
For what it's worth, the first time I played the demo, I died on the final playable screen and the game crashed, spitting out a Game Maker error about there not being such an object as the player, if I remember correctly (I meant to take down a better note on the error message).
I'm glad you enjoyed the game! I'm planning on adding multiple control options in the future but at the moment the state of the project is unknown. If enough people like the game and would enjoy following development on it then it may continue to be developed.
Also thank you for letting us know about the bug. I'll try and fix it and update it when possible!
Sorry to bother you, but I was wondering if you could help us out by filling out a short survey about Knight Quest. We're trying to get some in-depth feedback involving the future development of the game. Thanks again for enjoying the game (And spotting the bug :D )
Here's the link to the survey: https://goo.gl/forms/OG8wGX94ZpbJPbpt1
Good Morning Royal Den Studios,
I've just played the demo of Knight quest and really liked. I did a video with no commentary and posted it to Facebook, Pinterest, Twitter, tumblr, Blogger, and google+. I hope you don't mind?

Regards
Wobblyfootgamer
Awesome! I checked out your video and enjoyed it. I'm glad you liked the Demo!
Hey! I was wondering if you could help us out a bit and fill out a short survey involving the development of Knight Quest? It would mean a lot to us to get some in depth feedback. Thanks again for enjoying the game!
Here's the link to the survey: https://goo.gl/forms/OG8wGX94ZpbJPbpt1